ms egg by SKINmore+

ms egg is a skincare device with multi-functions with heating up to 42°C, electro-therapy, micro vibration, color therapy in red.
Compact size of ms egg is good for your skin at any time and places.

Introduction
ms egg is a skincare device with multi-functions with heating up to 42°C, electro-therapy, micro vibration, color therapy in red.
Compact size of ms egg is good for your skin at any time and places.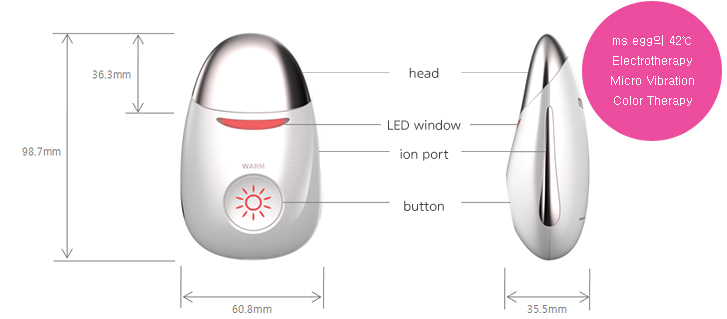 The world's most prestigious international design competitions in
German iF DESIGN
AWARD 2015 Award
Germany in January 2015 iF DESIGN AWARD 2015
ms egg has won a design award.
Multi-functional Heating Device
1. Heating Function
2. Electrotherapy Function
3. Micro-Vibration Function
4. Color Therapy Function

Heating Function
The Secret of 42°C
HSP(Heat Shock Protein)
HSP70 for Cell Protection & Wrinkle Care
HSP47 for Production of Collagen
-When the skin temperature reaches up to 42°C, HSP(Heat Shock Protein) inside the skin is increased.
(Source: Journal of "Investigative Dermatology" published by the Saishunkan Co., Ltd. and Keio, Kumamoto, and Nagoya University )
-There are many different types of HSP. Among them, HSP70 and HSP47 are beneficial for human skins as followings.
HSP70:
(1) Strong cell protection effect
(2) Wrinkle-care effect against UV rays.
(3) Decreasing of the protein that reduces collagen
HSP47:
(1) Production of collagen
(2) Preventing wrinkles from high temperature

Electrotherapy Function
1. Electric Pulse
- Iontophoresis + Electric Pulse by ms egg = More effective for skincare:
(1) Whitening effect by balancing PH value in skin
(2) Improving of skin elasticity and caring of wrinkles on the face.
(3) Anti-aging effect for aged skins by regenerating collagens
2. Micro-Current Treatment
- A type of electric pulse which has no stimulation and has below wave patterns for wrinkle care and lifting of the skin


References:
Jane Hiscock, Elaine Stoddart, Level 2 Beauty Therapy S/NVQ Series, Publisher Heinemann, 2004
Dawn Mernagh-Ward, Jennifer Cartwright, Health and beauty therapy: a practical approach for NVQ level 3, Edition 3, Publisher Nelson Thornes, 2004 Micro-
Vibration Function
1. Stimulation on to Blood Vessels
2. Improving Blood Circulation
3. Good Effect for Wrinkle-Care and Lifting
The 'heating head' of ms egg is rounded and smooth, providing micro-vibrations to thin skin of the face and neck.
Color Therapy Function
1. Red Color with 640nm
2. Improving Blood Circulation + Skin Elasticity
3. Good Effect for Rejuvenation of the skin.
Red color around 640nm wave length which improves blood circulation for fatigued skin and firms skin.
In the skin cosmetics field, color therapy is categorized as a type of alternative medicine, where red light stimulates blood circulation and increases energy. Also, it is effective in improving the metabolism of subcutaneous fat and cellulites.


Two Modes in ms egg
Mode
Effect
Heating
Electro-
therapy
Vibration
Color
Therapy
Facial
caring
wrinkles
42℃
Sine
○
640nm
Red
Lifting
improving
elasticity
 
Rectangular
○
640nm
Red
Two Modes in ms egg
1. Facial Mode: Wrinkle Care ! :
- 42°C in 'Heating Head' is operated in Facial Mode: Heat from the 'heating head' penetrates deeply to the skin cell and it helps;
(1) Production of Collagen
(2) Decrease of protein which decomposes collagen
(3) Production of HSP(Heat Shock Protein) which prevents wrinkles from UV rays or high temperature

- Electrotherapy in Facial Mode: Electrotherapy in facial mode gives you delivers beneficial ingredients to the deep skin(hypodermis) and making an effective Sine wavelength to the skin.

2. Lifting Mode: Skin Elasticity!
- Lifting Mode, elasticity of the aging skin
For enhancing of the skin elasticity, lifting mode stimulates numerous micro-muscles and skin cells on the face through the rectangular wave-formed
that has a longer lifting effect by micro-current.

 - Micro Vibration & 640nm Color Therapy
Micro Vibration and Red Color Therapy increase the energy into the skin by improving of the blood circulation.
Furthermore, Micro Vibration gives different patterns of vibration to each mode, so that it enables more effective massage due to diverse usage.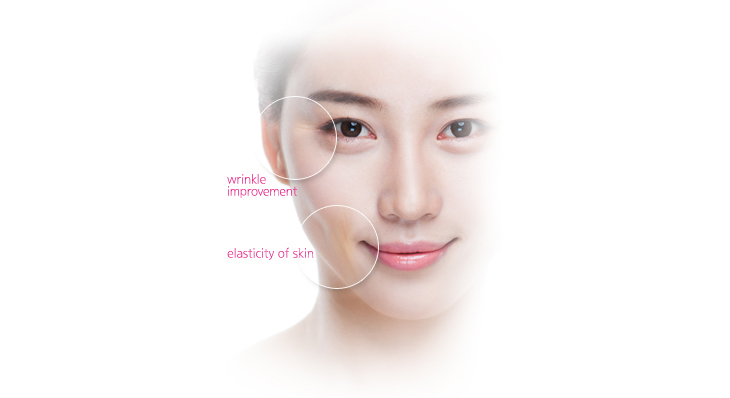 Safety 1: Triple Temperature Control system

This device is for skin, and there should not be any danger of being burned.
The safety of ms egg comes with triple temperature control system with thermistor, bimetal, independent auto control circuit-ACC).



1. Thermistor:

Temperature is to be controlled by the thermistor
Temperature will be kept at 42°C by the thermistor.



2. Bimetal:

The easiest way to control electricity depending on temperature
When the internal temperature increases, the battery, motor, and other parts will also be damaged. Before all parts are affected, bimetal makes the device shut down.



3. Independent ACC(Auto Control Circuit):

Power off Automatically.
Although the power is on, if you do not use for 3 minutes, the it is automatically turned off to prevent circuit damage.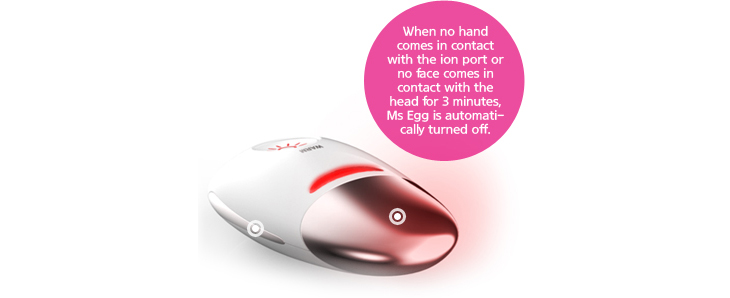 Safety 2: Human-friendly metal, Zinc Body & Titanium Coating
The "Hating Head" that has direct contact with the face is made by zinc which not only has both strong resistance to corrosion and good heat reservance, but also does not have no rejection of the human body.

Titanium is 2 times stronger than iron and 6 times stronger than aluminum. It has high corrosion resistance and causes no any adverse effect to the human body, making it the most safe metal for the human body, widely used as artificial joint or implants material in dentist.
One Button is Enough.
One button is all you need to;


1. Power on and off.
2. Switching Modes
Although there are many different functions, you can control the device by only one button.

Color Variation